A message from Larry Conrad, AVC-IT & CIO
Dear Colleagues,
We are fortunate, here at UC Berkeley, to have many hardworking people in IST/OCIO who deliver solid customer service experiences every day. Each year, IST/OCIO leadership has the opportunity to publicly recognize and reward individuals and teams who have clearly gone above and beyond to complete projects and initiatives that are vital to the success of IT and the University. This recognition is particularly notable because the entire senior management team participates in the selection, so the individuals and teams listed here have distinguished themselves across the division.
This year's recipients of Staff Appreciation and Recognition (STAR) awards truly embody the One IT initiative, and are excellent examples of how, together, we can meet the needs of our campus partners.  Sometimes, actions speak louder than words, and guided by Berkeley's Operating Principles, these staff members are building the IT Community and reshaping the perception of IT.
Achievement Awards recognize sustained, exceptional performance and/or significant contributions over an extended period of time that is above and beyond normal performance expectations. I am pleased to announce the 2014 STAR Achievement Award recipients: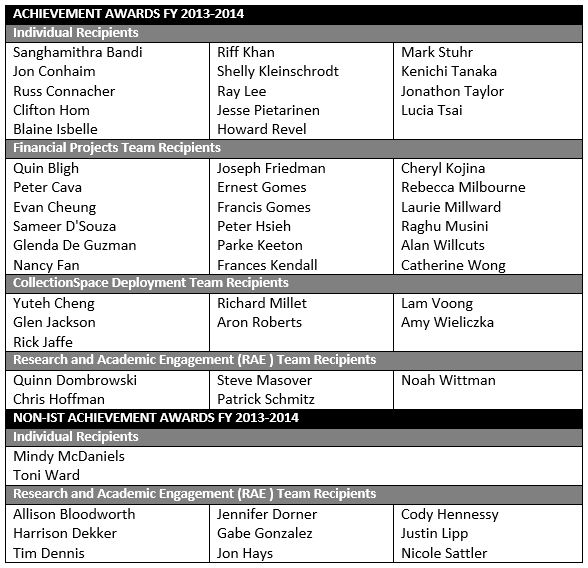 I am also pleased to announce the recipients of Spot Awards: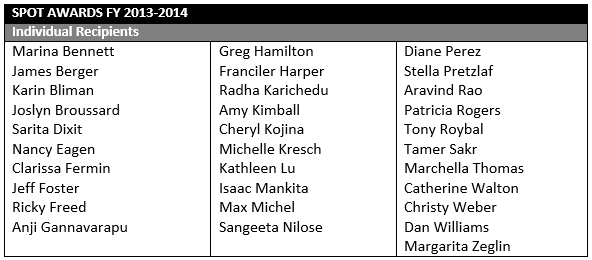 Please join me in congratulating all recipients, and in celebrating the accomplishments of our IST/OCIO colleagues! I also want to thank you for your continued focus on delivering excellent customer service. Together, we are One IT!
Regards,
Larry Conrad, Associate Vice Chancellor-IT and CIO