A message from Larry Conrad, AVC-IT & CIO
Dear Colleagues,
Our campus has an extraordinary number of talented people who, together, make up our One IT community. Each year, we have the opportunity to acknowledge and reward exemplary performance and contributions by individual employees or teams under the UC Staff Appreciation and Recognition (STAR) program.
Please join me in congratulating the 2014-15 IST STAR award recipients for their accomplishments. As a reminder, you may nominate fellow staff members for Spot Awards or Pay It Forward as a way to thank or celebrate a colleague throughout the year. In IST, Achievement Award nominations are reviewed on an annual basis in late spring.
We appreciate the work each of you do in providing excellent customer service, meeting the needs of our campus partners, and playing a key role in the initiatives that are vital to the success of IT and UC Berkeley.
Regards,
Larry Conrad, Associate Vice Chancellor for IT and Chief Information Officer
2014-2015 IST STAR Awards Recipients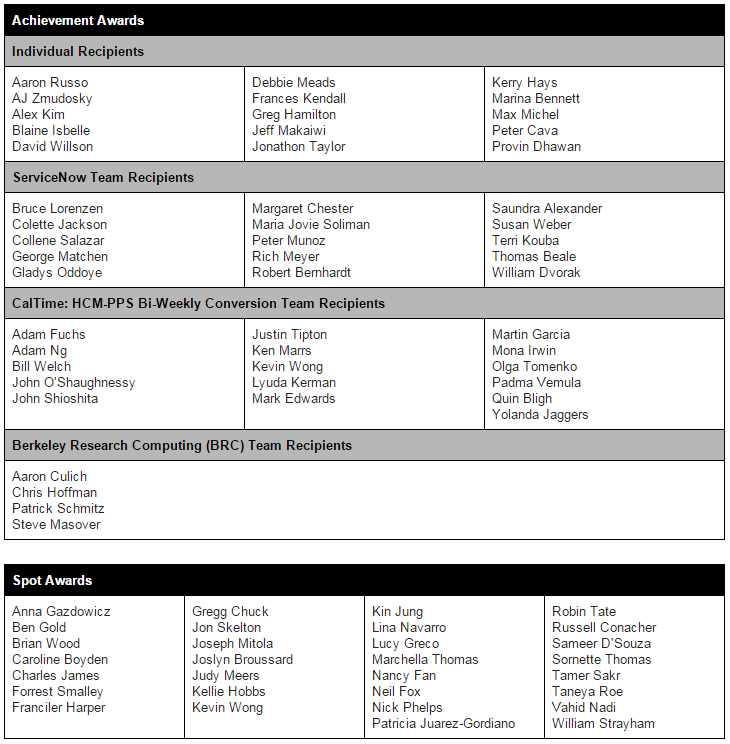 Learn More About STAR | One IT | Pay IT Forward | Ask Questions