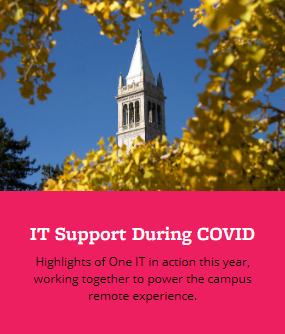 This year has definitely had its challenges, but there is hope as we move into the new year. We are pleased to share the accomplishments we have made across our One IT community in support of the larger campus strategic plan and mission of the university especially in our role as a strategic enabler in the successful transition to remote work, research, and teaching.

Highlights
This report is a testament to the tireless work, dedication, and engagement of all our technical and administrative professionals who are the heart of our One IT community. Our success depends on their collective efforts powering not only our progress but the flexibility and agility to support the day-to-day operations of the campus experience be it in person or remote. 
Please feel free to share and distribute this report with your teams as appropriate.
Wishing you a happy holiday season and a bright new year!
Warm regards,
Jenn Stringer, Associate Vice Chancellor for IT and Chief Information Officer
---
Learn more: Connect with Jenn | CIO Annual Report | One IT | Reimagining IT