Colleagues,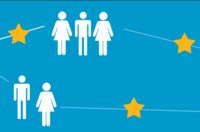 We are pleased to announce recipients of the 2019-20 IST/OCIO Staff Appreciation and Recognition (STAR) awardwhichacknowledges and rewards exemplary performance and contributions by individual employees or teams each year. The impressive accomplishments that have taken place over the past year, and especially these last few months, is remarkable. I want to thank each and every one of you for the sustained progress and hard work.
As a reminder, IST/OCIO achievement award nominations are reviewed on an annual basis in late spring but you also have the option to thank or celebrate a colleague throughout the year by nominating them for Spot Awards or through our Pay It Forward program. 
Please save the date Thursday, Oct. 22 (link adds event to your bCal) for our annual One IT Staff Appreciation event to recognize award recipients and welcome new employees across our One IT family.
Again, thank you for your hard work, dedication, and service to the UC Berkeley community!
Regards,
Larry 
2019-20 IST/OCIO STAR Awards Recipients
Individual Recipients

Steve Aguirre

Syed Ahmed

Alvin Allarde

Justin Anonuevo

Kali Armitage

Sally Baker

Marina Bennett

Quin Bligh

Srilatha Chennamaneni

Margaret Chester

Kim Chhay-Wade

Kong Chou

Glenn Cruz

Chris Doane

Stephanie Dunn

Saskia Etling

Clarissa Fermin

Martin Garcia

Jake Harwood

Casey Hennig

Jon Ives

Elise Jok

Patricia Juarez

Radha Karichedu

Michelle Kresch

Josh Kwan

Zoey Lin

Bruce Lorenzen

Isaac Mankita

Naresh Meda

Judy Meers

Jason Miller

Gennady Minevich

Joe Mitola

Jimmy Morales

Aswan Movva

Vahid Nadi

Deepak Narayan

Pradeep Narayanan

Adam Ng

Pooja Ojha

Shiva Pachika

Susana Parker

Diane Perez

Eli Perri

Dhruv Prabhakar

Stella Pretzlaf

Kaylin Rochford

Bernie Rossi

Tony Roybal

Tamer Sakr

Sean Schluntz

John Shioshita

Rob Silva

Rob Taber

Santhosh Thimmaiah

Gary Thomas

Kellie Watters

Alan Willcuts

Kevin Wong

Margarita Zeglin
Teams
Zoom Berkeley

Jen Bellenger

Bob Bernhardt

Joslyn Broussard

Ian Crew

William Dvorak

Jon Hays

Colette Jackson

Terri Kouba

Peter Munoz 

Gladys Oddoye

Taneya Roe

Robin Tate

Marchella Thomas

MIT Kerberos

Kevin Burney

Davey Hathorn

Clifton Hom

Blaine Isbelle

Alex Kim

Brian Koehmstedt

Michael Leefers

Jeff McCullough

Ronnie Ong

Summer Scanlan

Jonathon Taylor

Jim Vaughn

AJ Zmudosky
FRA Financial Responsibility 

Avaya Agent for Desktop

UCPATH

WPS COVID-19

Automate Form

P/NP Pass/No-Pass 

Chara Bui

Jessica Longhurst

Marc Pechaitis

Barbara Sowden

Brandon Wright

Geovanni Herrera

Sornette Thomas

Jim Williams

Peter Cava

Sameer D'Souza

Anji Gannavarapu

Frances Kendall

Shubha Narasimhan

Caroline Boyden

Anna Gazdowicz

Lucy Greco

Kathleen Lu

Lexie Patten

Brian Wood

Bobby Cox

Iryna Donchishin

Ken Hensel

Andrea Lloyd

Rich McGowan

Nili Ovaici

Marty Sulc
Related Links: Learn More About STAR | One IT | Pay IT Forward