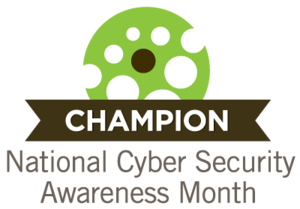 To our campus community,
This October, we are joining with the Department of Homeland Security to raise cyber security awareness across the nation during National Cyber Security Awareness Month (NCSAM). The overarching themes this year are Cyber Security is Our Shared Responsibility and We All Must Work Together to Improve our Nation's Cyber Security. Cyber security is not just the responsibility of universities, governments, companies, groups, or individuals. Everyone shares the responsibility for cyber security – from the average smartphone user to a corporate CEO.
We encourage you to engage in the NCSAM events listed on our One IT calendar or follow us on Twitter for ongoing updates throughout the month. Please take some time to review the tips and resources we have compiled below to help safeguard yourself and the University against cyber threats:
A commitment to cyber security is more important than ever before. We appreciate your efforts in becoming a cyber security champion, sharing your knowledge with others, and participating in NCSAM.
Regards,
Larry Conrad, Associate Vice Chancellor for IT and Chief Information Officer
Jeremy Rosenberg, Chief Information Security Officer
---
Related Links: UC System-wide NSCAM Resources | Learn more about NCSAM | Campus Information Security Resources  | Report a Security Incident