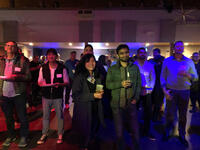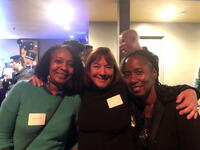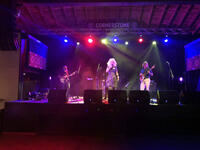 Thank you to all who came to the IST New Year party at Cornerstone. A special thank you to our colleagues who performed! You were definitely the highlight of the event!
For those of you who missed it, the evening started with Mexican food and soft drinks at Cornerstone music venue on Shattuck. We conversed, ate, drank, played games and took ridiculous photos in the photo booth.
The program included songs performed by Allison Henry, Brian Wood, Dale Engle, Dustin Miller, Greg German, Jen Bellenger, Julie Goldstein, Kerry Hays, Ronnie Ong, and was emceed by Jeremy Rosenberg. Our colleagues are so talented!
Irene Walsh organized a game in which we guessed how many candies were in a huge jar -- Donald Wong was just one piece off with his guess of 2019, and won the whole jar of 2020 M&Ms! Everyone who attended got a raffle ticket, and two lucky winners won tickets to upcoming Cal Performances events.
A big thanks to Jen Bellenger for doing the heavy lifting (departmental paperwork) and to the social committee volunteers! It wouldn't have been such a success without you.
Get involved with planning IST social events!
Do you have ideas for social gatherings, and want to get involved with IST social event planning? Email ist-social@berkeley.edu or just reach out to Jen or me!
Happy New Year!
Summer Scanlan
Related Links: Cornerstone Music Venue| Watch videos and view event photos