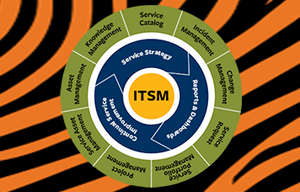 The ITSM Program has been working on multiple strands of work over the last year: Incident Management, Major Incident Management, Knowledge Management, Service Request Fulfillment, Change Management, and developing an underlying data model to support these processes. This update will focus on two deliverables from the Incident Management process --  the processes and protocol we use to fix any problems you report about your campus hardware and/or services. Last year, an incident management Tiger Team was formed to develop the strategy and goals for our incident management process, design campus standards around those strategies, deploy these standards and measure their impact, and then implement related continuous service improvement processes.
Customer Service Survey
One of our goals was to ensure that our customers were satisfied with the service they received on incidents they reported. To measure customer satisfaction, we built a simple two-question survey to be sent out upon closure of any incident aligned with one of the 17 service teams represented on the Tiger Team. Since July 2018, we have collected 1036 survey responses and built reports that track our average rating across a year, our average rating trend by month, whether the majority of our customers (80% or greater) are satisfied, and begun outreach within a 5-day window to any customer that replied as dissatisfied.  
Service Snapshot Dashboards
In addition, in October 2018, dashboards were created for Tiger Team members and their managers. These dashboards include 28 standard reports to help service managers set target goals with their teams and enable managers to assess how well their teams are meeting those targets. The dashboard categories include team response time to incoming incidents with a focus on first response to the customer; aged incidents that have been open for more than a month; identifying missing data in the incident form that is needed for prioritizing tickets and reporting; and the above-mentioned reports associated with customer satisfaction.
Meet the Tiger Team
Members of the Tiger Team include : Dave Browne, Amit Singh, Colette Jackson, Walter Stokes, Phil Mahoney, Noah Wittman, Jon Hays, Noah McGee, Kellie Waters, Tony Roybal, Terri Kouba, and Rich Meyer. For more information contact ITSM Program Manager, Rich Meyer.
---
Related Links: Visit ITSM Program Website | What is a Tiger Team?