One IT colleagues,
Spring is here! And with it comes another opportunity to perfect your game face and join us for some fun.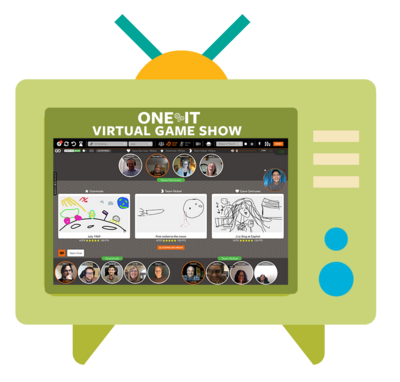 Event Details
What? One IT Virtual Game Show (Round 3)
When? Friday, April 23, 2021 | 10 - 11 a.m.(add this event to your bCal and respond "Yes" by April 16)
How? Back by popular demand, we'll play a round of Virtual Game Show hosted by Go Game Remote. Watch this 2-minute video to get an idea of what to expect. Spoiler alert: you can expect F-U-N!
Who? You, your team, your colleagues (including student staff), anyone in IT at UC Berkeley! 
Not Your Typical Virtual Meeting
If you have missed this event in the past, please consider joining us for a unique experience. This is our third round of delving into the Virtual Game Show environment hosted by Go Game Remote. Many of you participated during the staff appreciation event in October and our new year's celebration in February. To streamline things, there is no RSVP form to fill out. Simply respond to the bCal invite for this event with a "Yes" or "No" by Friday, April 16Accommodation requests for this event can be sent to Stephanie Dunn (ssorensen@berkeley.edu) by Monday, April 12
What People are Saying
A few of our One IT family members shared their thoughts on participating in the Virtual Game Show:
"I loved it! I joined hesitantly thinking 'I'm too busy!' but had a great time. The best part was lip syncing to 80's hair bands with impromptu dancing." ~ Faye S. in OCIO 
"I was feeling crummy and Zoom-meeting fatigued but decided to log into the game anyway...and I'm SO GLAD I did. The game host really made the whole experience feel like a game show. I was happy to be teamed up with people I don't know or don't normally interact with and the format made it so it was quick and easy to let my guard down and just have fun." ~ Edgar O. in L&S IT
"Taking some time out of the day to relax and have fun playing games with colleagues was a wonderful break." ~ Vivian S. in ITCS
"It was surprisingly easy and fun to be part of a team playing games head to head with other One IT colleagues!" ~ Chris H. in RTL
"It was so nice laughing with my IT colleagues and playing fun games." ~ Tarea P. in SAIT
Get in the Game
Watch your email on April 22 - we will send the game URL and join info the day before to those who replied "Yes" to the event invite in bCal.

Check your tech - make sure your computer setup meets these technical requirements:

Internet connection with at least 4 Mbs upstream and 8 Mbs downstream.

A webcam

The use of headphones for sound effects

Laptop, desktop (no phones or tablets)

Cookies enabled

Join the game - At 10 a.m. sharp (you can login starting at 9:50 a.m.) on April 23 we will launch into an action-packed hour of fun and games such as: 

Trivia

Pictionary

Fact Match

Name that Movie/Tune

GIF Battles

Live Lip Sync Challenge
I look forward to seeing you on April 23.
Jenn 
Jenn Stringer, Associate Vice Chancellor for IT and Chief Information OfficerOne IT Committee


---