One IT Colleagues,
You have just one more day to RSVP for the One IT/Un IT event hosted at Berkeley Law next week. Please join us and invite office mates to do the same: RSVP here. These events are for anyone who works in an IT organization both technical and non-technical staff, if you are receiving this email, you're invited and we hope you will attend. Here are the event details: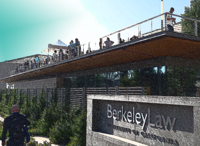 One IT/Un IT at Berkeley Law
We now have over 200 people who will attend next week's event and the info on how our community spends time outside of work is very interesting:
36% Indoor

36% Outdoor
11% Competitive
9% More IT!
5% Collecting
3% Observation
RSVP now to share how you Un IT
See you next Wednesday!
Regards,
Larry Conrad, Associate Vice Chancellor for IT and Chief Information Officer
Patricia Donnelly, Assistant Dean for Instructional and Information Technology and Services; Chief Information Officer, Berkeley Law
---
Related Links: View/Print the Poster | Learn more about One IT | Pay IT Forward | Ask Questions