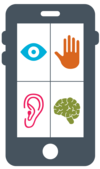 Dear One IT community,
Please join us for a Mobile App Accessibility Workshop on Thursday, Oct. 25 from 10-11:30 a.m. in the Academic Innovation Studio (Dwinelle 127). Lucy Greco, our very own Web Accessibility Evangelist, will be facilitating a fun, interactive workshop on how to make sure your apps are accessible and useful to everyone.
This workshop is sponsored by ReIT Strategy 7: Diversity & Inclusion. Light refreshments will be served. Learn more about the workshop and register by Oct. 24. Please contact Jen Bellenger at jbellenger@berkeley.edu to request accommodations. Advance notice is necessary to arrange accessibility needs.
Hope to see you there!