IST Departments Collaborate with Campus Partners to Provide Powerful Insights into Business Processes and Improvement Opportunities for Campus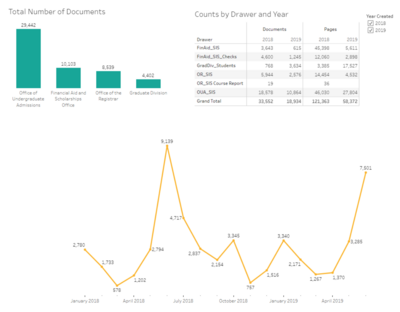 Student Affairs Business Operations uses the Architecture Platforms and Integration Department's Imagine service to capture and route their customers' crucial documents. Their customers include Financial Aid and Scholarship Office, Office of the Registrar, Office of Undergraduate Admissions, and the Office of Graduate Admissions. They work with dozens of document types, including student transcripts, financial aid forms, state residency forms and so forth.
To better serve their customers, Student Affairs Business Operations needed data about their document imaging work so they could determine optimal staffing and the most effective business processes. For example, they needed to know: Where are their bottlenecks? Which are the busiest weeks of the year?  How fast is their workload growing? They already had high-level information about when their busy seasons are but needed more detail. 
Collaboration Toward Data Visualization
The Imagine system holds much of the data they needed: How many documents they process each day, week, month; how long the documents take to process; whether the time a document needs for processing vary by document type or how many pages it has. 
So, Student Affairs Data Analytics, in collaboration with the Imagine, Enterprise Data Warehouse (EDW), Production Control, and Student Affairs IT (SAIT) teams launched a data visualization project. The project would combine Imagine data, automatically sourced from the Document Imaging API and EDW's new Tableau service. Tableau provides an abundance of choices for how to present data in a user-friendly and configurable manner. The teams worked together to fine-tune which data was sourced, how frequently, how it would be retrieved and how it would be visualized, analyzed and shared.
After a few months in operation, the Tableau dashboard has given the Student Affairs Document Imaging team a better understanding of workload fluctuations and how they vary for each of the customers they serve. The team already knew that the summer (and June in particular) is their busiest period; the dashboard helps to quantify that (by day, week, month, quarter) and reveals differences among the clients, both in terms of volume and length of the documents. While June is the busiest month overall, there are additional workload peaks at other times of the year and this varies by client, so knowing that some clients tend to have longer documents provides additional context. Finally, the dashboard also identifies documents that have been under review for longer than expected, which can help inform business process improvements
Going forward we will be looking into adding additional data to provide more actionable information. If your department has a problem and wants to explore how IT could engage with you on a solution, please reach out to UC Berkeley CTO Bill Allison to arrange a free CTO Consult with volunteers from the One IT community to help get you started.
Contacts for More Information