One IT colleagues,
You may have seen an updated bCal invite come through for our One IT New Year's Celebration moving the event to Wednesday, Feb. 3. The abundance of interest in this event is exciting! But, unfortunately, the RSVPs exceeded the number of hosts that were available in our Virtual Game Show environment for the Jan. 14 date. The good news is that moving it out a few weeks will allow more of our community to join in!
Please RSVP to bCal Invite
To streamline things, there is no RSVP form to fill out. Simply respond to the bCal invite for this event with a "Yes" or "No" by Friday, Jan. 22. At close of business that day, we will take the list of those who replied "Yes" and send them the instructions for joining the event. Please send accommodation requests to Stephanie Dunn (ssorensen@berkeley.edu) by Jan. 15.
Game Plan for Wednesday, Feb. 3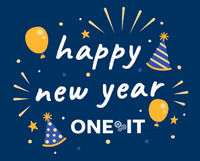 What? One IT New Year's Celebration
   When? Wednesday, Feb. 3, 3 - 4 p.m.
   How? Virtual Game Show. Watch a sample video
   Who? You, your team, your colleagues, anyone in IT at UC Berkeley! 

Get Ready to Play
RSVP by Jan. 22 - No form to fill out, simply reply "Yes" or "No" to the bCal invite for the event. That way we can send you the unique URL to access the game. 
Be ready to join the game - make sure your computer setup meets these technical requirements:

Internet connection with at least 4 Mbs upstream and 8 Mbs downstream.

A webcam

The use of headphones for sound effects

Laptop, desktop (no phones or tablets)

Cookies enabled

Join the game - At 3 p.m. sharp (you can login starting at 2:50 p.m.) on Feb. 3 we will launch into an action-packed hour of fun and games such as: 

Trivia

Pictionary

Fact Match

Name that Movie/Tune

GIF Battles

Live Lip Sync Challenge
Thank you for understanding this shift in dates. I look forward to seeing all your game faces on Feb. 3! 
Best,
Jenn 
Jenn Stringer, Associate Vice Chancellor for IT and Chief Information Officer