Colleagues,
We hope you will join us on Tuesday, Oct. 22 for our annual One IT Staff Appreciation event. With a new academic year underway, this is a great opportunity to celebrate our accomplishments over the past year, to welcome new IT staff into our One IT family, and to recognize 2019 IT STAR award recipients. Light refreshments will be served in the Toll Room and patio area of the Alumni House. Don't miss out on the fun, RSVP today! 
---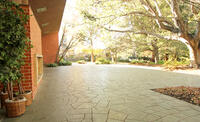 One IT Staff Appreciation
Tuesday, Oct. 22 | 3:30 - 5:30 p.m.
Alumni House
View/print the poster
---
This event is co-sponsored by the Office of the CIO and the IT Leadership Group, many of whom will be in attendance for you to connect with plus IT colleagues across the university. One IT is everyone who works in an IT department, both technical and non-technical staff. Be sure to invite an office friend!
See you on Oct. 22!
Regards,
Larry Conrad, Associate Vice Chancellor for IT and Chief Information Officer
Dave Browne, Director, IST-Infrastructure Services and Telecommunications, Chair of One IT 2019-20
---
Related Links: What are STAR awards? | Nominate a Colleague for a Spot Award | Pay IT Forward | Learn more about One IT | Ask Questions