Dear One IT Community: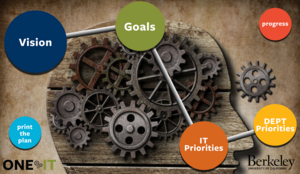 Many of you have actively participated in the Reimagining IT process since its inception in 2017. Thank you so much for contributing your ideas, energy, insights, and hard work to what is now our ReIT strategic plan! As we transition from creating a shared vision for the broader IT campus community to operationalizing this vision through our priority initiatives and strengthening our connections, I'm excited to announce that we have a new team in place to carry forward this important work.
As part of the transition,  ReImagining IT has been added to Liz Marsh's portfolio as Director of Strategic Initiatives and Chief of Staff for the OCIO. Jean Cheng, on loan from Research, Teaching, and Learning Services (RTL), is stepping in as Program Manager to help shepherd and drive our ReIT work. 
In addition to Liz and Jean, I have added Shawna Dark, Chief Academic Technology Officer and Executive Director of RTL, along with Karl Otto, Chief Technology Officer for University Development and Alumni Relations, to the Program Planning Group (PPG) as thought partners to help how we move this work forward.
We are excited to build on the strong foundation of ReIT, including continuing our success discussions and annual priority setting. Beginning next month, we will provide regular updates via the CIO Open Forum (in lieu of the ReIT Open Forums we used to have). We are also exploring ideas for other potential activities in spring and welcome your input! 
In the meantime, we invite you to check out the most recent version of the ReImagining IT Strategic Plan and enjoy the community building activities organized by the One IT team. Feel free to reach out with any questions to reit@berkeley.edu or to any of the PPG members individually.
Please join me in welcoming our new ReIT team!
Warmly,Jenn
Jenn Stringer, Associate Vice Chancellor for IT and Chief Information Officer