Colleagues,
This month represents the one year anniversary of the publication of the Reimagining IT strategic plan. We have had a very productive year both in implementing foundational tactics from the plan and actively communicating with many campus leaders to refine the plan. My thanks go out across the One IT community for your continued support and participation. Your dedication and engagement has led to great progress being made on many important Tactics, including rolling out CalNet 2-Step verification, the creation of the new Research, Teaching, and Learning (RTL) group, Computer Accessibility, Telling Our Story as IT Professionals, and Student Computing efforts, to name only a few. Please see the ReIT Tactics Dashboard for more information. We continue to add new, high-priority Tactics to the plan as we learn from IT departments about important work.
Recall that we began this work at a time when many executive leadership positions were in transition. Our strategy was to create the Reimagining IT strategic plan and have ideas ready to share with our new leaders once they were on board and up to speed. That strategy has worked well and we are encouraged that our new campus leaders have begun to define a 10-year Strategic Framework for UC Berkeley. We look forward to reviewing this in detail as it gets released to the campus. One thing seems clear: the responsibility to assess the associated impact on and needs for campus IT will land on the campus One IT community. This fall, we will be working with campus leadership and the One IT community to update the ReIT plan to incorporate the campus strategic framework, balance key campus priorities, and continue to strengthen our IT services.
This month's digest will provide you with a year end summary and progress reports for ReIT tactics that are underway: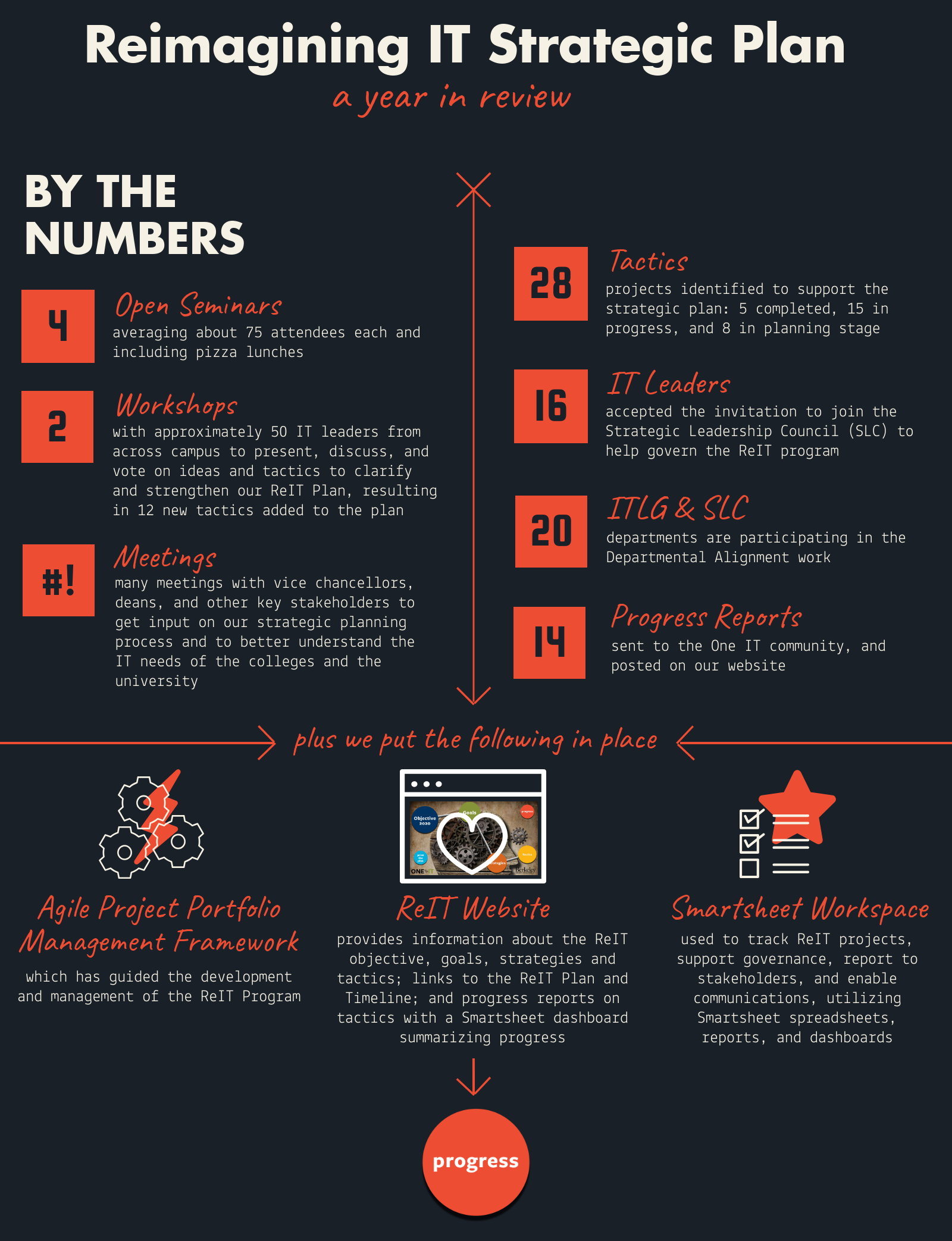 Upcoming Events: Save the Date | One IT Calendar | Summer of Learning
We have lots of opportunities coming up for you to continue to support our strategic planning efforts including the return of ReIT Open Seminars! Come and enjoy time with your colleagues and get the scoop on ReIT. Be sure to add all these events to your calendar:
Departmental Alignment
The ReIT team is actively engaged in a process called Departmental Alignment. We are meeting with 20 IT teams, including ITLG Directors and SLC members, to look at departmental priorities for FY 18-19, and assess the relationship of departmental work to ReIT goals, strategies, and success definitions. These meetings are proving to be quite valuable, as we are learning about how the work we all do is represented in the ReIT Plan, and how we can provide a "line of sight" from each department to the goals of the ReIT Plan. We are also using these sessions to see how the ReIT plan might be extended to better support unit initiatives. The results of this work will be published later in the summer, and will be used as we prepare the next version of the ReIT Strategic Plan (to be released in early 2019). In the meantime, we have updated the current ReIT Plan to reflect the changes that have been made since July 2017. See the ReIT Plan and stay up-to-date on tactics at the ReIT Dashboard
Help Students Do the 2-Step
Want to get involved and help with a critical ReIT Tactic? Earlier this month we started rolling out CalNet 2-Step to students. The CalNet team has several outreach efforts planned to assist students in getting enrolled in 2-Step including tabling at Caltopia and the Golden Bear Orientation Department Resource Fair. We need your help! Shifts will be 2-3 hours long, and will be on campus, either at the Recreational Sports Facility (Caltopia) or Sproul Plaza (Resource Fair). No experience is necessary, we will train you in! Here's the schedule:
Friday, Aug. 17, 12-5 p.m.

Sunday, Aug. 19, 9 a.m.-4 p.m.
Monday, Aug. 20, 9 a.m.-4 p.m. - we especially need help on this day since both events are at the same time!
Sign up to cover a shift using this spreadsheet. Additional information will be sent to those who sign up. Please remember to check with your supervisor. Thank you to those who are already scheduled to help!
We hope you are enjoying your summer and ready to kick off another academic year.
Regards,
Larry Conrad, Associate Vice Chancellor for IT and Chief Information Officer
David Greenbaum, ReIT Director