Colleagues,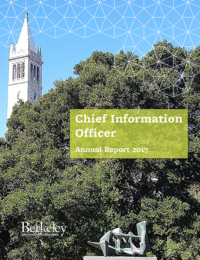 We are pleased to share our 2017 CIO Annual Report, highlighting progress we have made toward the goals outlined in our Reimagining IT Strategic Plan through collaborative efforts with our campus One IT Community. Together, we continue to align the products and services we offer to best support the University's mission of teaching, research, and public service.
Ways to View
In addition to highlighting some of the many key accomplishments by the One IT community last year, I also want to draw your attention to the What We Do section of this report. This section provides a glimpse into the sheer magnitude of effort and scope of impact involved in supporting campus information technology. IT is a high-volume, high-impact, and strategic function for the Berkeley campus.
UC Berkeley is fortunate to have a cadre of highly skilled, experienced, and capable IT staff to support the diversity of needs across the campus. I look forward to working with my One IT colleagues in supporting the continued excellence of UC Berkeley.
Regards,
Larry Conrad,
Associate Vice Chancellor for IT and Chief Information Officer
---
Learn more: CIO Annual Report | One IT | Reimagining IT | Ask Questions