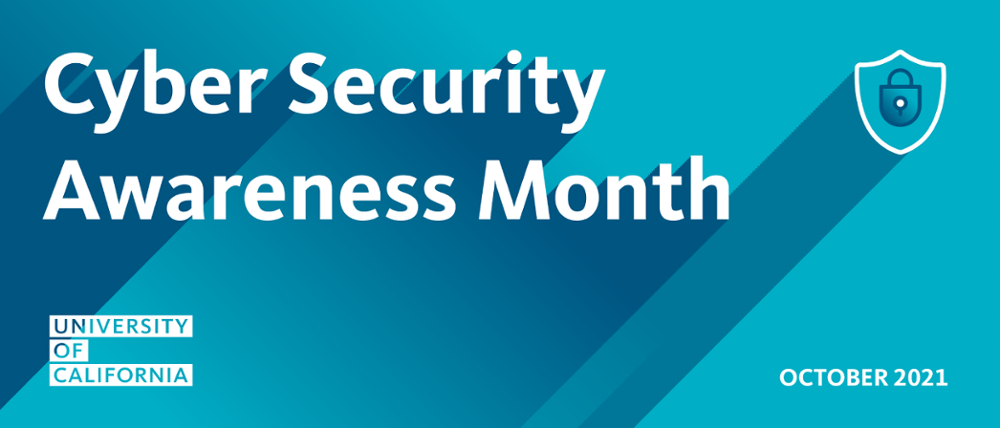 Dear Campus Community,
This October UC Berkeley celebrates Cybersecurity Awareness Month (CAM) by joining other University of California locations in highlighting the importance of cybersecurity and offering guidance on protecting your data and devices. This year's theme is Do Your Part. #BeCyberSmart. 
We are proud to support this UC systemwide initiative and remain committed to supporting each of you. More than ever before, technology plays a part in everything we do. 
Three things you can do right now to help protect your devices and data:
#1: Use Duo to Push
Use the Duo App to send a Push to complete your CalNet 2-Step. A "push" is an approval request that you can send to your smartphone or tablet and it's quicker and more secure than entering text passcodes or phone calls.
#2: Do the "Minimum"
Visit our How To Secure Devices page to secure your devices under the Minimum Security Standards. We include detailed instructions on how to set up your devices to meet campus policy requirements. 
#3: Sign up for FREE LastPass Premium
Get your free LastPass Premium account. UC Berkeley offers faculty, staff, and students a free LastPass Premium account. This tool manages all your passwords and syncs across all your devices.
We encourage you to visit our Cybersecurity Awareness Month page for our resources, including simple online safety habits and steps you can take. We all have a responsibility to do our part in securing our interconnected world.
Regards,
Jenn Stringer, Associate Vice Chancellor for IT and Chief Information OfficerAllison Henry, Chief Information Security Officer
This message was sent to all students, faculty, and staff.