One IT colleagues,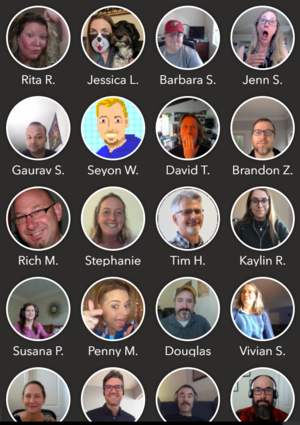 It was great to see many of you (and your AWESOME game faces - see image on the right) last week during our One IT Staff Appreciation celebration. We have received a lot of positive feedback about the experience and wanted to follow up with a few items for those who may have missed the event and to get your input about doing another event like this in the future. 
ICYMI
Want to play again?
Let us know - take this 10-second survey to let us know if we should play Go Game Remote (or something like it) again in the future.
Other ways to connect to de-stress and have fun - our One IT community has some great ongoing events to help break up the day between Zoom meetings and talking to your kids or your pet:

#social-furiends - pet lovers unite!

#social-garden-party - share what's growing in your garden.

#social-water-cooler - whatever you'd talk about in the breakroom.

#shoutouts and Pay IT Forward - to celebrate the great work of colleagues.
Thanks for all you do. And, thanks for playing!
Best,
Jenn
Jenn Stringer, Associate Vice Chancellor for IT and CIO