Colleagues,
UC Davis is this year's destination for University of California Computing Services Conference (UCCSC) to be held Aug. 13-15, 2018. Proposals are now being accepted through Friday, March 23. UCCSC is a two-day conference with up to 12 sessions running concurrently.
The theme for this year's conference is Sustainable Technology and organizers are looking for session submittals covering a broad range of IT topics, both technical and non-technical, and a mix of intermediate and advanced-level material that fit any of several tracks:
Health
Leadership/Professional Development
Research
Security/Privacy
Technology and Security Policy
Web and Applications
Women in Technolog

y
UCCSC welcomes both new and experienced speakers and strong value is placed on featuring a diverse, creative line-up of topics.
A great perk, if your session is accepted the speaker's attendance at UCCSC is comped! Note: If your session is submitted by a team and the session is accepted, one person from the team will be comped.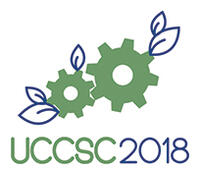 Remember to submit your proposal by Friday, March 23. View the proposal review timeline for details. Learn more about UCCSC 2018 on the conference website.
If you have questions, please direct them to UC Berkeley's UCCSC Ambassador, Shelly Kleinschrodt, at shelly.kleinschrodt@berkeley.edu.
Regards,
Larry Conrad, Associate Vice Chancellor for IT and Chief Information Officer
---
Related Links: UCCSC 2018 Website | UCCSC 2017 Recap | UCCSC Contacts