One IT colleagues,
As we wind down 2020, I would like to wish you all a wonderful holiday season and restful winter curtailment. I have heard so many people saying how much they are looking forward to 2021, for many reasons - primarily that there is hope for a brighter year ahead! So, let's kickoff the new year together as a One IT community!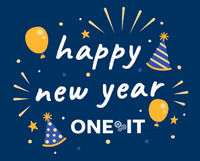 What? One IT New Year's Celebration
   When? Thursday, Jan. 14, 3 - 4 p.m.
   How? Back by popular demand, we'll play another round (or two) of Virtual Game Show hosted by Go Game Remote. 
   Who? You, your team, your colleagues, anyone in IT at UC Berkeley!
   RSVP here by Jan. 8 (also check your bCal to easily accept the invite)
This fall, after we hosted our annual One IT Staff Appreciation event, we sent a survey to the One IT community to see what types of events you would like to see in the future: both virtual and in-person. We also asked if we should bring back the October Virtual Game Show event which many of you enjoyed playing, and the answer was Y - E - S!
Game Plan
2 - 2:50 p.m. The CIO Open Forum brings the One IT Community together on a monthly basis to share information, hear an informal update from CIO Jenn Stringer, participate in Q&A and hopefully have some fun and learn from each other.

3 - 4 p.m. At 3 p.m. sharp, we will launch into an action-packed hour of fun and games not to be missed. Grab some headphones, your game face, and get ready to compete in live games such as: 

Trivia

Pictionary

Fact Match

Name that Movie/Tune

GIF Battles

Live Lip Sync Challenge
Want a sneak peek on what to expect? Watch a video of the Go Game Remote in action. 
Get in the Game
Please RSVP so we can send you the Zoom connection info and the unique URL to access the game. Accommodation requests for this event can be sent to Stephanie Dunn (ssorensen@berkeley.edu) by this Friday, Dec. 18.
I hope you will join us on Jan. 14 - see you in the new year!
Jenn 
Jenn Stringer, Associate Vice Chancellor for IT and Chief Information Officer
One IT Committee


---