About the Program
Since 2006, UC Berkeley has had 72 IT professionals from across campus graduate from the IT Leadership Program (ITLP), a keystone offering from MOR Associates. This was chosen as the leadership training platform for our One IT community confident in the knowledge that MOR Associates has been supporting, advising, and developing leaders since 1983. This multi-track program has run well over 100 times, serving top tier higher educational institutions in the US, including Stanford, University of Pennsylvania, Michigan State, Indiana University, NYU, Penn State, University of Iowa, University of Wisconsin, and MIT.
The program is delivered in a multi-school format or to an on-campus cohort. There have also been numerous universities that have sponsored the leadership program, designed to develop individual capabilities as well as the ability to work together across the institution.
Program Objectives
To enhance the professional and personal development of individuals who will play increasingly important management and leadership roles within information technology.
To broaden each participant's understanding of the strategic and technological issues facing higher education institutions and how each institution is shaping its choices.
To strengthen the relationships within and across the participating universities to foster the collaboration needed to leverage resources when working on common interests.
Program Design
The program provides a variety of learning opportunities structured around these tracks:
Workshop Track - This track consists of four intensive multi-day workshop sessions focused on providing a conceptual framework while building selected competencies needed to fulfill the leadership and management roles particular to university IT organizations. The sessions are spaced over eight months, each with pre-work and application assignments to be completed between the sessions.
Applied Learning Track - An applied learning track engages participants in practicing the leadership ideas and lessons presented during the course of the program. Individuals will be encouraged to apply what they learn to their current work and report back on their experiences; they will engage in small experiments to test out new approaches; and they will explore strategic issues important to their field.
Individual Development Track - Each participant is expected to commit to an individual development plan that includes: receiving feedback from a 360° survey process, completing a self-assessment, establishing goals, and participating in one-on-one coaching sessions. This program component is designed to support people doing the individual "work on self" that is a critical dimension of the developmental process.
Leadership Community Track - Throughout the program there will be considerable emphasis on relying on each other, learning from each other, and depending on each other to make these lessons learned sustainable beyond the program end date. Workshops are filled with group work, affinity groups are charged with work between sessions, peer coaches are assigned and the bond formed during this program becomes a critical currency for getting things done in the organization going forward.
---
MOR Leadership Framework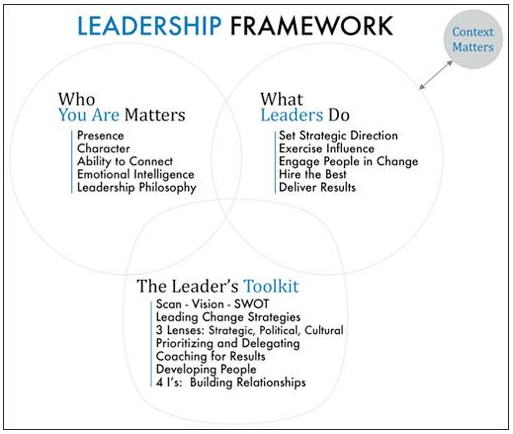 This illustration is our short take on the 5 W's of leadership: Who, What, Where, Why, and When
MOR Leadership Memory Jogger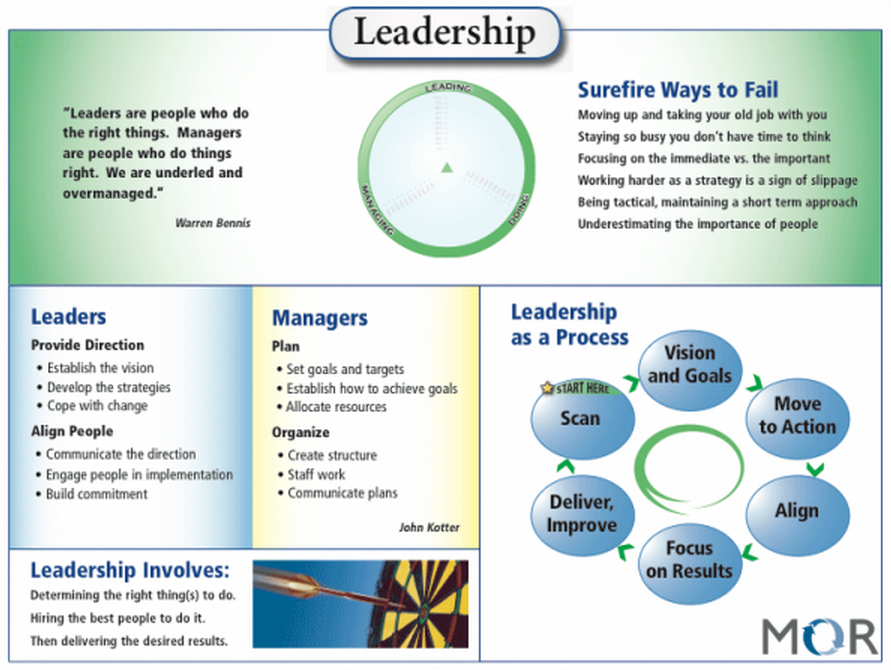 An abreviated collection of important leadership concepts from the Mor website.