How do you feel when someone sincerely thanks you at work?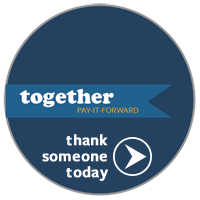 In addition to feeling appreciated, you probably feel a bit surprised. Let's remove the element of surprise.
We are doing a lot to Reimagine IT,  build our IT community and change our work culture. We know that between all the changes, projects and daily operations, it's easy to move from one thing to the next without acknowledging the people that are making our work possible and our days better. Let's change that.
What is the IT Appreciation Program?
The IT Appreciation Program is a program sponsored by the Office of the CIO that enables you to appreciate someone who makes your workday better. This program makes it easy, fun, and meaningful to recognize your colleague, manager, or student employee who is working to reimagine IT.
How does the program work?
When you thank someone through this program, the following will occur:
You will receive a thank you card and a $25 gift card to give to the person you'd like to appreciate.
Your note of recognition will be passed along to the recipient's supervisor and the Technology Leadership Council, so the leaders of the organization can see our shining stars.
We'll feature these appreciations on this website!
Why is appreciation important?
Studies show that expressing gratitude makes people happier and healthier. At work, appreciation is a major driver of job satisfaction and happiness, and engaged staff are more productive staff. According to the Greater Good Science Center, we aren't very good at expressing our gratitude to others and are even less likely to do so on the job. When was the last time you thanked or were thanked by a colleague or your manager?
Learn More about Gratitude at Work
Program Contact
Please direct questions about this program to Clarissa Fermin, Pay-IT-Forward Program Administrator (cfermin@berkeley.edu). If you are looking to send a kudos to someone else on campus who is not in an IT department or role, please visit the UC Berkeley Appreciate page.