This speaker series and other events will provide the opportunity to be in community and learn something new through the DEIBJA lens. The speaker series will bring presenters from outside UC Berkeley as well as colleagues from across campus to share their knowledge and lived experiences. Reach out to 
Britt McClintock
 if you have any questions or if you have ideas for future speakers or events. Feel free to share this information with anyone who might be interested.
Upcoming Speakers & Events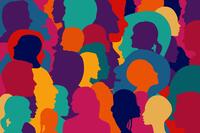 Gender Diversity and The Language We Use with Wes Chernin Kinrose
Thursday, June, 15 | 3:00 p.m. | Website: hey-wes.com | Instagram: @hey_wes_
Speech-language pathologist and transgender educator, Wes Chernin Kinrose (he/him), joins the bIT DEIB Speaker Series to engage in a thoughtful and heartfelt conversation about the queer and trans experience. Wes will explore gender euphoria and gender congruence, and then look at how language and communication within the university setting impacts student success and quality of life.
---
The Action Team and PPC present - Safe Space: A Monthly Drop-in Session to Acknowledge, Process, Humanize, & Restore
Thursday, May, 25 | 4 - 5:00 p.m.
We are more than just "our work" here at bIT. When there is tragedy in our communities we are deeply impacted. When others suffer, the collective human body is set back from our progress forward. We need to normalize making space for our staff to be human.
Join us for our monthly drop-in session to discuss or just listen about matters that are impacting our world.
Each drop-in session will have a specific topic and be loosely planned for the purpose of;
Allowing you to know if a topic will be too provoking or anxiety inducing for you to discuss in a group
To keep drop-in sessions somewhat structured since we only have 45 minutes
To help keep it a psychologically safe space
The May 25 session will be around the topic of the recent mass shootings.
(*This is not a therapy session. This is a space where we can engage in discussion and acknowledge some of the difficulties happening in our society.)
---
DEIB Event Archive
The Non-Native Speakers Paradox: Speak English, Can with Padma Vemula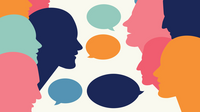 Tuesday, May, 2 | 3:30 p.m. | watch the video
In this conversation, Padma Vemula shares her lived experiences and thoughts on creating an inclusive workplace for Non-Native English speakers as they often face linguistic and cultural barriers that can hinder their ability to effectively communicate and collaborate with colleagues. By promoting inclusivity and diversity, as a higher education institution we can not only enhance the overall work environment but can also leverage the unique perspectives and talents of all employees.
---
Berkeley IT Women's Panel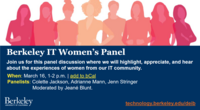 March 16, 2023 |1-2 p.m. | watch the video 
Join us for this panel discussion where we will highlight, appreciate, and hear about the experiences of women from our IT community. Panelists include Colette Jackson, Adrianne Mann, and Jenn Stringer, moderated by Jeané Blunt.
---
Insights to Belonging: A Conversation with Pilar McQuirter 

Feb. 28, 2023 | 3 - 4:30 p.m. | watch Pilar McQuirter's talk
Cultural Strategy Director, 
Pilar McQuirter
 (she/her), shared her observations planning creative experiences for world-renowned brands and marketing agencies. She unpacked the challenges of creating successful work in these environments and how belonging can be the key to creating great work together. In the end, we learned from her approach for connecting with diverse audiences so that we can unlock more connection and belonging in your world.
---
Culture & Technology Related to Afrofuturism with Nyame Brown.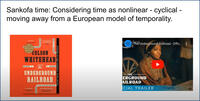 Feb. 21, 2023 |12:05 - 12:55 p.m. | watch Nyame Brown's talk
Brown, a local to the Bay Area 
is an Afrofuturist installation artist working in the media of painting, drawing, cut paper, blackboards, augmented reality, gaming, and fashion. His work addresses the Black imagination as a space for new ways to perceive the Diaspora as trans-Atlantic, psychic, and imagined—not just through unity and similarity, but by looking at the dynamics of difference. 
---
From a Hispanic Serving Institution to a Latinx- thriving University: What are the Implications for IT?
Dec. 7, 2022 |10 - 11:30 a.m.
 | view/print poster | watch Dr. Figueroa's talk
In this conversation, Dr. Chantal Figueroa from Colorado College builds on the lessons learned from designing mental health strategies for educational institutions in the United States and behavioral health service providers in Latin America to delineate the implications organizations such as IT have to contribute to a Latinx-Thriving University.