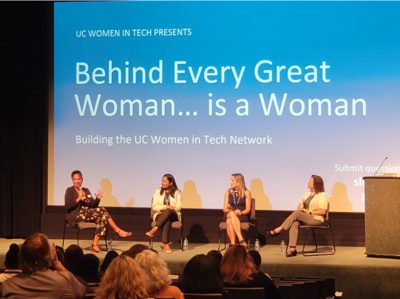 We have all heard — and some of us have experienced — how having a mentor to offer guidance can make a huge difference in any given career path. But identifying as a woman, and having a great woman as that mentor can be a total game changer. During UC Tech, expert panelists shared their experiences and stories about the women who inspired, mentored, and helped guide their professional journey during the session entitled Behind Every Great Woman…is a Woman. 
Conference attendees gathered in the Price Center Theater at UC San Diego or joined virtually from across the country on Aug. 16, 2022 to hear from April Sather, Chief Information Security Officer at UCOP; Manisha Kanodia, Manager of Information Systems in the Information Technology Services department at UC San Diego; and Candace Jones, VP of Business & Admin Services at Pasadena City College (former staff at UCOP).
Photo left to right: panelists Candace Jones, Manisha Kanodia,
and April Sather with moderator Ellen Pollack.
Individual Voices But Shared Experiences
Allison Flick, Service Operations Manager at the UC San Diego Library and Co-Chair of the UC Women in Technology (UC WIT) Committee opened the session with an introduction sharing information about the mission of the committee who sponsored this event. Ellen Pollack, UCLA Health Sciences CIO moderated the panel that covered topics on how women can benefit from having a support network as they meet the challenges of adapting to the post pandemic world: remote and hybrid work, high-pressure work demands, and continued disruptions in professional and personal lives. Panelists spoke about their own unique journey on how they first came into the IT arena and candidly shared their trials and tribulations along the way. Here are some excerpts from the conversation:
Community & Advocacy
Candace talked about one of her early experiences where she received some difficult information during a performance evaluation and how it was a learning moment, "True mentorship is going to offer you not only the things you are doing well but also the things where you need growth." She described how you can be successful in a role for decades but, "If you want to grow, you have to work in a system that was never intended for you. How you work and advocate within that structure is your choice." April acknowledged things she was afraid of that pushed her out of her comfort zone like public speaking, so she joined Toastmasters and saw results…and a promotion! This inspired future speaking opportunities promoting the importance of attracting and retaining women in technology. "Just being good at your role isn't enough if you want to give back."
Finding Your Voice & Advocating for Your Needs
Manisha noticed on a new team that a woman developer didn't speak up. She was also hesitant to lead meetings and communicate with clients so Manisha asked her about this in a private conversation after a meeting. Her colleague came forward and thanked her for requesting her to step up. "Support and encouragement go a long way." Candace expressed how it is tough as it causes us to be self-reflective on times when we don't speak up. "As women we are often taught to make people comfortable. Oftentimes we walk away and think 'I should have said something.'" Her mantra is, "If you see something, say something. It's not always safe but it's important to be vocal. Interrupt and disrupt situations. Advocacy equals direct intervention."
Advice for Advancing Your Career
"What got you here won't take you there," is Manisha's advice. "As a developer, you have to be the smartest in the room. As a manager, you have to switch to being an active listener and learn how to get the best out of the people in the room. Never miss an opportunity to grow and get a new skill." Candace emphasized that being a woman in IT leadership is hard. Women are constantly fighting to justify credentials and competence. An added challenge is being black - fighting to be seen. She recommends that women seek out others with whom you can build community. Find your voice in a way that resonates with you authentically. Mental anguish of being hyper visible as a woman (only woman in the room) can take a toll, so you must prioritize taking care of yourself. We also have to be better about hiring, such as taking ownership of our recruiting to diversify our pools. IT managers need to figure out how to proactively seek out and place women into IT roles.
Importance of Self Care
April offered a solid suggestion, "Treat your career like a marathon and not a sprint, manage your energy. Recognize when you're at an unhealthy place. Don't be afraid to ask for help, both professionally and personally. Manage your emotions, it's important to recognize them but be careful not to be driven by them." Then Manisha talked about how healthy stress can be good and actually beneficial. "Identify the type of stress you are experiencing and use that stress to push yourself beyond your boundaries. But recognize the difference between healthy stress and burnout."
Working in a Remote Environment
Panelists had a mix of ideas on the pros and cons of working remotely and provided some recommendations on how to approach this going forward. As a pro, April talked about how we can reach more people and even expand our workforce, which has been a positive. "We are permanently in some hybrid of working in person and remote, we need to be more intentional about planning in person events." But for Candace, being fully remote can be a con as her campus has been back to being in person for some time and she finds it easier to inspire and connect in her world being back in the office. She feels this also allows for making more intentional connections with women. As a mother, Manisha simply says be yourself. "Be a woman. Be flexible, if children pop into your Zoom meeting, just pause the conversation, say hello to them and continue. No big deal."
Where to Watch
In case you missed it, you can view the recording of this session along with all the other great presentations on the UC Tech conference website. Questions about this event can be directed to Allison Flick at aflick@ucsd.edu
Mentorship Opportunities
If you are interested in mentorship opportunities, most UC locations have programs available on their campus. You can also check out the EDUCAUSE Mentorship Program (be sure to login with your UC email address for free access) where you can get connected to women who can mentor you or offer to be a mentor to others.