One IT colleagues,
The date for our One IT Celebration is getting closer. If you haven't RSVP'd yet, I hope you will consider joining the over 225 people who are planning to attend! I am very much looking forward to seeing everyone! 
Please RSVP now, or by this Friday, July 1. If you are a current staff member, you may see the event on your bCal but please fill in the short RSVP form so we can get a more accurate count for ordering our picnic lunch. Remember to bring an IT colleague; this event is for everyone in our One IT community, which means any staff working in an IT role or department across campus!
This event is all about coming together for FUN, taking a collective pause after these challenging past few years, and celebrating those who have retired since December 2019. We have received some questions about bringing family members to the picnic, but unfortunately, there are some campus policies that do not allow us to extend the invitation beyond our current staff and retirees.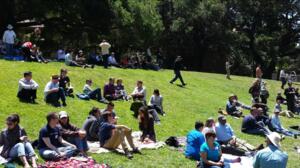 What? One IT Celebration: A Picnic on the Glade
 When? Thursday, July 14, 2022 | 11 a.m. - 1 p.m.
 Where? Faculty Club Glade
 Who? You, your team, colleagues, and anyone in IT at UC Berkeley!

Feel free to bring a blanket, frisbee, hat, and sunscreen, we will provide lawn games and lunch (with options for various dietary needs). 
See you at the picnic on July 14!
Jenn 
Jenn Stringer, Associate Vice Chancellor for IT and Chief Information Officer