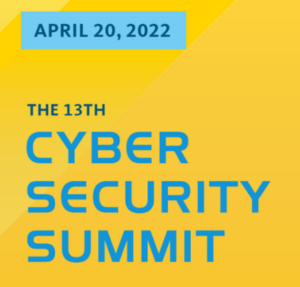 Registration is now open for the 13th UC Cyber Security Summit which will be held on Wednesday, April 20, 2022! This virtual event will include a full day of discussion, information, games, and insights about cybersecurity and cyber-risk management. There will also be opportunities to network with peers across the University of California, California State University, and California Community College systems. Register now or by the April 13 deadline.
Important Tips
Chrome and Edge are the preferred browsers for this format. Please use one of these options for both registration and attending the event.

Please note that mobile and tablet devices are not supported.

This is a closed event. Your work email is required for registration.

It's crucial to complete your profile at the time of registration. Uploading a profile photo and answering all questions by April 4 earns you extra points!
Once you are registered, plan your schedule for the day. Our Chief Information Security Officer, Allison Henry, will be part of a panel with other UC campus security officers called The Intersection of Privacy and Security at 2 p.m. You won't want to miss it, so be sure to add the panel discussion to your agenda!
Contact
The UC Cyber Security Summit website is full of great information. Check out the event's FAQs page if you have questions or you can email the UC Cyber Summit planning committee at uccybersummit@ucop.edu
We all play an important role in protecting both our personal and university data. I hope you can take part in this year's summit!