OCIO/IST Organizational Design Project
In October 2020, we kicked off our Organizational Design Project (ODP). This is a ~10 month project to create an organization that is positioned to both manage the impacts of the campus financial situation and is prepared to strategically meet the needs of our institution going forward in the future. 
Why now? As the world, and UC Berkeley's place in it, continues to change at an increasingly unprecedented pace, we want to be an adaptive, agile organization able to proactively adjust to emerging campus needs while enabling staff to do their best work. To not do so now, leaves us in the position of continuing to react rather than lead. We are embarking on this project together from a position of strength — that is, we are doing this after much success improving OCIO/IST in many ways, building trust across campus through One IT, and continuing to refine and implement our long-term strategic plan. The overview provided below is a draft charter for our project (information is subject to change as we progress).
---
I. Objective
Build an agile central IT organization that serves as a strategic partner with the UC Berkeley community to efficiently deliver campus IT services. Create a structure and culture where IT professionals can do their best work.
Scope of Project
The organizational design project will focus principally on departments that are part of the Office of the CIO (OCIO) and Information Services and Technology (IST). Research, Teaching, and Learning (RTL) and Student Affairs IT (SAIT) will also be fully engaged partners in the analysis of strengths and weaknesses and discussion of options, as there may be important opportunities for organizational refinement in those units as OCIO/IST evolves. The project will also gather data about the IT services, functions, and staff outside of central IT units (these "local" IT units make up approximately 44% of total IT staff on campus) in order to understand the full IT landscape at UC Berkeley. The project will focus on people, process, and structure.
The six Principles with which we will carry out this Organizational Design Project:
Engagement: Get input from all central IT staff, and reach out to representative members of the broader campus IT and partner community.

Respect: Have respect for all; be sensitive to the different impacts this will have on our teams and individuals.

Equity: Identify potential impacts to Black, Indigenous, and People of Color (BIPOC) and other marginalized individuals and groups that may result from organizational change decisions. Minimize any disproportionate effect.

Communication: Communicate, communicate, communicate. Appropriate transparency.

Focus: Build upon strengths and address weaknesses.

Pace: Carry out an agile process with an accelerated timeline. Recognize that the project's benefits will continue to be realized beyond the 10-month project process and timeline.
---
Objectives
We expect the organizational design project to have at least five major areas of benefit (these correspond to the key elements in the overall objective above):
Strategic partnership with campus: The critical measure of success here is that campus leaders see central IT as delivering great strategic and operational value to all areas of the campus community and mission. As part of this, central IT will understand the short and long term needs of the campus, and work hand in hand with IT leaders of distributed IT units in colleges, schools, and major administrative units. The Office of the CIO will help the campus to make the most efficient use of total IT investments across all of Berkeley — for example, local IT units will not have to duplicate or provide central IT services but rather focus on where they offer unique, local value.
Efficiency: We will build an organization that can deliver key campus IT services as efficiently as possible for the designated service level. The organization will (1) more easily reallocate funds internally to needed investment areas (e.g., improved and/or new IT services), and (2) manage decreasing campus budgets. Based on an assessment of campus finances as of October 2020, we expect the campus will ask OCIO/IST to reduce permanent operating expenses by approximately 5-10% over the next 3 years. It is time to use organizational design as a fundamental tool to manage the central IT budget much more strategically over the next 3-5 years.
Agility:

By "agile" we mean (1) an organization that can change its

structure

rapidly over time as the external environment, needs of the campus, and/or technology evolve; (2) professional

staff

who are resilient and cross-trained, and thus able to move to new functions and organizational models more easily; and (3)

processes

and culture that push decision making down into the organization. A growth-mindset in staff and greater opportunities for staff professional development will serve all these agile goals.  

Diversity, Equity, Inclusion, and Belonging:

Create an organizational structure, processes, and culture that embraces diversity and equity, fosters a sense of inclusion and belonging, and enables all staff to feel valued in the work they do.

"Best Work" and Professional Growth: Build an organization that provides opportunities for professional growth and experimentation, the development of new skills, and that enables staff to see the connection of their work to the mission of UC Berkeley.
---
III. Costs
Project Team for Organizational Design: approx. The project team includes a part-time project consultant (43%), part-time project manager (50%), part-time project analyst from finance team (20%), part-time communications staff (10%), part time administrative / analytic support (10%).  NOTE: Only the Project Consultant is being paid for by funds contributed by the Vice Chancellor for Administration (VCA); all other costs are in-kind contributions of existing IST staff. 
OCIO/IST Leadership time: Regular use of IST Directors meetings and other time for interviews, surveys, option discussion, possible workshops, project design, etc.
 All Staff in OCIO/IST and RTL and SAIT: Some time from these staff for survey, possible workshops, focus groups, discussions. 
---
IV. Risks 
Organizational time/capacity: Risk managed by ensuring senior IT leaders understand project plan and commit necessary time to lead and contribute to the project. For other staff, the time needed will be limited and managed carefully.

Zoom and the inability to be in the same space: Risk managed by increased experience using Zoom for small and big meetings and break out groups. 

COVID-19, fires, power shutdowns: The last semester and several years give us greater campus experience for managing the disruption and stress of these events but they remain serious risks that we will have to monitor. We expect that the heart of the project will take place after fire season has ended. 

Further budget cuts: Project addresses financial management much more strategically.

Staff anxiety from "reorg": The project will include extensive communications, particularly from the point of view of those impacted. The project will be structured so that there is broad engagement of staff in gathering input.  
---
V. Decision Makers

 
EVCP (Alivisatos) and VCA (Fisher): Consultation will take place at key points in the organization design process, including pre-kickoff review. Other senior campus leaders will be consulted as well during the process. 
CIO: The CIO is the principal decision maker regarding changes to OCIO/IST organization.  
---
VI. Stakeholders 
Campus academic and administrative leaders

Other campus faculty

IT professionals inside of OCIO/IST

IT professionals outside of OCIO/IST

Students
Consultative groups: We will use existing IT and other campus groups to engage about the project, e.g., IST Directors meetings, IST management team meetings, All Staff Meetings, IST Action Team, CIO Forums, Academic Senate Committee, etc. As the project progresses, we will create working groups as needed to help support stages of the project.
---
VII. Sources of Information
Surveys, interviews, workshops with campus IT staff and other campus staff

Data gathered during Jan - March 2020 Strategic Organizational Analysis

Discussions with other higher education CIOs and academic leaders
---
VIII. Timeline
This project will have four major phases; at that point it will be complete. It will then be followed up by a fifth, post-new organization launch phase to ensure the new organization and processes are on track. After each phase we will have "an agile decision point" where we will assess progress and adjust the scope and schedule as needed. A preliminary timeline is as follows:
Project Phase

Time Frame

1. Define and Launch Project
Sept. - Oct. 2020
2. Understand Strengths and Weaknesses
Nov. 2020 - Jan. 2021
3. Consider Multiple Options
Feb. - April 20

21

4. "Get the Plumbing and Wiring Right" 
May - July 2021 (Project Complete)
5. Launch, Learn, Course Correct 
Post Project - August 2021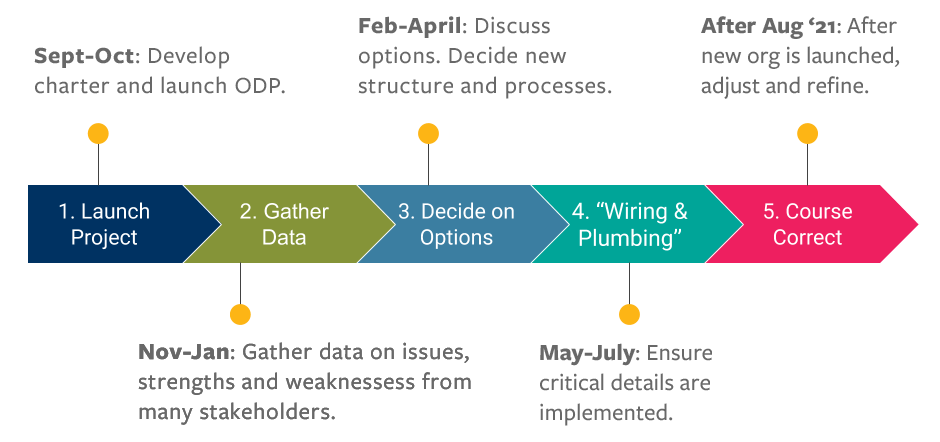 ---
Below we provide a more detailed timeline for phase 1 and an overview of major tasks for phase 2. As we complete the work in the current phase we will define the more detailed timeline for the next phase.
---
Phase 1: Define and Launch Organizational Design Project | Sept. - Oct. 2020
| | |
| --- | --- |
| Tasks  | Date  |
| Give IST Directors overview of timeline through Oct. 20 (launch dates). | 10/6/20 |
| Complete full draft of Project Charter. | 10/6/20 |
| Meet with Provost and VC Administration to review Project Charter. | 10/7/20 |
| Define project team members for phase 2. | 10/12/20 |
| Meet with IST Directors to review Project Charter. | 10/13/20 |
| Meet with small group of IT partners to review charter and discuss how to ensure we have strong IT partner input | 10/13/20 |
| Update Project Charter based on input from Directors and Partner advisors. | 10/15/20 |
| Meet with IST Management Team to review Project Charter. | 10/16/20 |
| Meet with IST All Staff to present Project Charter (using the same deck as the management team meeting). | 10/20/20 |
| Send an email message to IST All Staff after meeting about the project. | 10/22/20 |
| Send an email message to One IT about the project. | 10/26/20 |
| Present Project at CIO Forum . | 11/12/20 |
| When opportunity presents: Present Project at AVC Leadership Meeting, Academic Senate IT Committee, VCUE Leadership Team, Deans Council, and/or others. | TBD |
Communication Summary for Phase 1:
Phase 1 includes multiple points of presentation and follow up communication after launch meetings.

Regular communications through Phase 2:

Starting in mid-November the project will send a brief status update to OCIO/IST staff every 2 weeks.  

For important milestones, changes, etc., CIO will send ad hoc updates. 
---
Phase 2
:
Understand Current Strengths and Weaknesses of the Organization | 

Nov. 2020 - Jan. 2021
In this phase we gather information from many sources to understand and analyze the current state of central IT on campus and its relationship to campus partners. We will determine the strengths to build from and the weaknesses to correct.  
AGILE DECISION POINT: After this phase is complete, we can determine the nature of the Organizational Options conversations: e.g., what options to consider, who is involved in which conversations, how long they should take, how decisions are made, etc. We will also assess the risks at the time and the pace of the next phase of the project.
---
Phase 3: Consider Multiple Options | 

Feb. - April 20

21
In this phase of the project we use the information gathered and analyzed in phase two to consider a range of different organizational improvements and options. By the end of this phase high-level decisions will have been made about the new organizational model, processes, and plans.
---
Phase 4: "Get the Plumbing and Wiring Right" | 

May - July 2021
In this phase we ensure that all of the details of the organization that need to change — e.g., role definitions, new structures, new processes, financial adjustments — to launch the new organization are assessed and carefully planned for. Critical tasks that must be taken care of before the new organization can launch are completed. Other tasks that will take place after launch are planned for. Implementation teams are identified and put in place to carry out the work. 
---
POST-PROJECT: Phase 5: Launch, Learn, and Course Correct | Aug. 2021
After the new organization is launched, we will carry out follow up projects as needed to refine, for example, new processes and structures. We will assess the organization's progress towards meeting key project objectives (the benefits above) and make adjustments and course corrections. Continued staff feedback will be essential in this phase as well. 
The OCIO/IST Organizational Design Project Charter is modeled after Heidari-Robinson, S., & Heywood, S. (Nov. 2016). Harvard Business Review article Getting Reorgs Right; book ReOrg: How to Get it Right.