Organizational Design Project
In October 2020, we kicked off our Organizational Design Project (ODP) to create an organization that is positioned to both manage the impacts of the campus financial situation and is prepared to strategically meet the needs of our institution going forward. 
Objective
Build an agile central IT organization that serves as a strategic partner with the UC Berkeley community to efficiently deliver campus IT services. Create a structure and culture that is inclusive, actively embraces diversity and equity, where IT professionals can do their best work.
Status: Dec. 16, 2021
We officially launched our Berkeley IT organization at the Dec. 16 All Staff Update! ICYMI: All staff slide deck | zoom recording
To date, all new project-critical roles have been filled. Welcoming Wes Johnson as our new Executive Director of Campus IT Experience and Michelle Marquez, as our new Director of People, Performance rounds out our Executive Leadership Team (ExLT). 
We have completed our new organizational design down to each and every individual contributor, for the entire Berkeley IT organization (see org chart | view status of open positions). 
How we met our ODP objective:
Agile
Developed our Agile Collaborative Team (ACT) framework. A cross-functional team charged with exploring a critical strategic challenge that will transform the way we work and/or deliver services.

Reorganized our functions to enhance synergies and be more agile in our delivery of services.

Created a collaborative leadership model that empowers decision-making at the right level.
Strategic Partner
Launched the Campus IT Experience unit.

Created a new ITSM group to support best practices.

Created the Technology Leadership Council to engage our partners.

Supported an IT Community Council "reboot" to broaden impact and connection.
Efficient
Centralized billing under Business Operations and investing in new technology solutions to streamline processes.

Initiated the move towards the full consolidation of our Service Desk and Tier 1 operations.

Renewed focus on and investment in IT service management.
Diversity, Equity, Inclusion & Belonging
Brought in a consultant to help us meet our commitment to using a DEIBJ lens throughout the ODP process.

Partnered with the Action Team for feedback throughout the process.

Created a new People, Performance and Culture unit that reports directly to the CIO.

Realignments made to job titles to bring equity and consistency across our organization.

Created a full-time "Culture Officer" role dedicated to DEIBJ work.

Continued to strengthen our hiring practices with a focus on DEIB.
Best Work
New unit People, Performance and Culture that reports directly to the CIO.

A focus on professional development and creation of a position to support career growth across bIT.

Moved to funding all professional development centrally to ensure all staff have access to the training they want and need.

Organized staff in ways that will strengthen and improve operations and service delivery.
Next steps:
We will kickoff the new year announcing our new bIT org to faculty and staff campus-wide as our ODP work has now reached Phase 5. Launch, Learn, Course Correct
ODP Timeline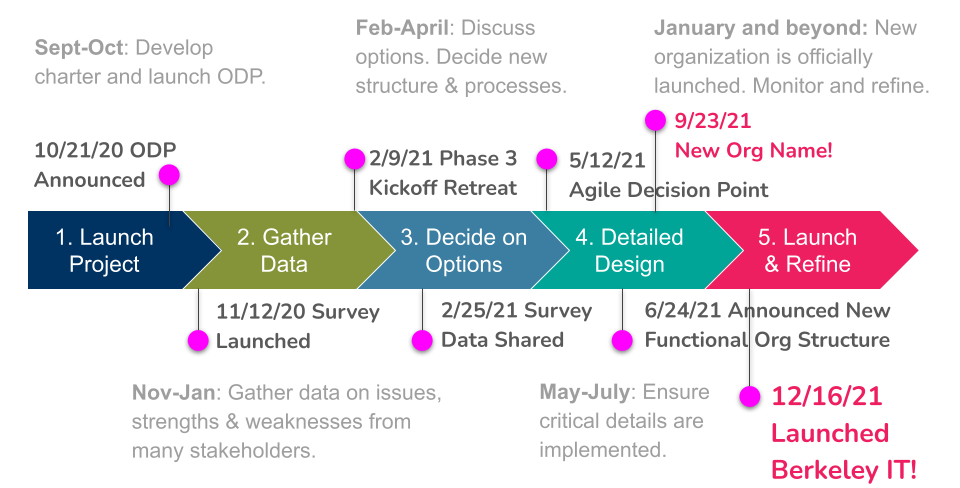 Phase 4 Detailed Design: Workstream Schedule