Goals & Benefits to Campus
Starting in September 2021, a high-level assessment of UC Berkeley's Warren Hall data center was performed to identify current costs and conditions, as well as determine potential options for a new data center and cloud services strategy. Maintaining the Warren Hall data center and the decentralized server closets over the long term is costly with the potential to expose substantial uncertainty to the University given Berkeley's low-risk tolerance and high availability expectations. A shift to a more modern computing strategy offering different types of data center services and better support for the public cloud would allow for greater efficiency, effectiveness, and security of data center assets and enable innovation and a new competitive advantage for research, faculty recruitment, retention, and more.
---
Measures of Success
The current state assessment evaluated the existing data center environment and identified potential future state strategy combining data center services in conjunction with public cloud options that support UC Berkeley's strategy and requirements.
Academic and Research Alignment

Enable future campus growth through risk-averse adoption of modern infrastructure.

Meet or exceed current hosting architecture.

Support in-flight technology initiatives.

Maintain compatibility with existing service management processes and SLAs.

Cost Leadership

Identify the best solution to maximize return on investment given investment practices.

Reduce overall data center operating expenses per unit.

Leverage existing resources and modern technology to reduce costs.

Risk Management

Strengthen the high availability/resiliency position of critical infrastructure components.

Improve fault tolerance in the event of unplanned service disruptions.

Comply with legal/regulatory and security requirements.

Operational Flexibility

Improve business agility by adopting leading infrastructure architecture practices.

Fit for Purpose: support the varying and growing computational needs across campus.

Enhance infrastructure scalability for optimization of existing resources.
Additional Considerations
Culture and other influencing factors: Communicating project information, such as the case for change, project timeline, approach, and specific impacts on user groups is a central function of organizational readiness and UC Berkeley's strategy for change. Communication will be delivered through workshops and town halls, websites, and executive leadership briefings and engagements.

Financial planning and incentives: As UC Berkeley analyzes the possibility of new data center services realized through both local and off-site server co-location options, it is also important to consider a new, long-term funding model. This will be achieved by transparent communication that will allow the Berkeley community to clearly visualize how IT is financed across campus. Additionally, the new funding structure will have appropriate incentives to promote the use of bIT services and reduce the number of server closets across campus for a more secure and streamlined approach. Lastly, the new funding model will allow stakeholders to more easily direct grant money to fund resources and shared Berkeley-wide data center services needs.
Progress
In our current state assessment of UC Berkeley's data center, we found that the one-size-fits-all framework and the decentralization of ~142 server closets across campus do not allow for efficiency, effectiveness, or security of the University'sassets. Our analysis provided a high-level estimate of new options, pros/cons, and an updated financial profile. The future state assessment provided three options that campus stakeholders are discussing, including refining the financial model to determine the best solution for Berkeley.
During the original current state assessment, Deloitte interviewed 81 stakeholders across 28 interviews and documented the key themes and anecdotes heard across campus. Major themes included:
Needing specific applications and specialized services; 

Supporting innovation and the University's mission and funding model; and 

Needing reliable storage and backup (and lots of it) with more autonomy to move quickly and innovatively.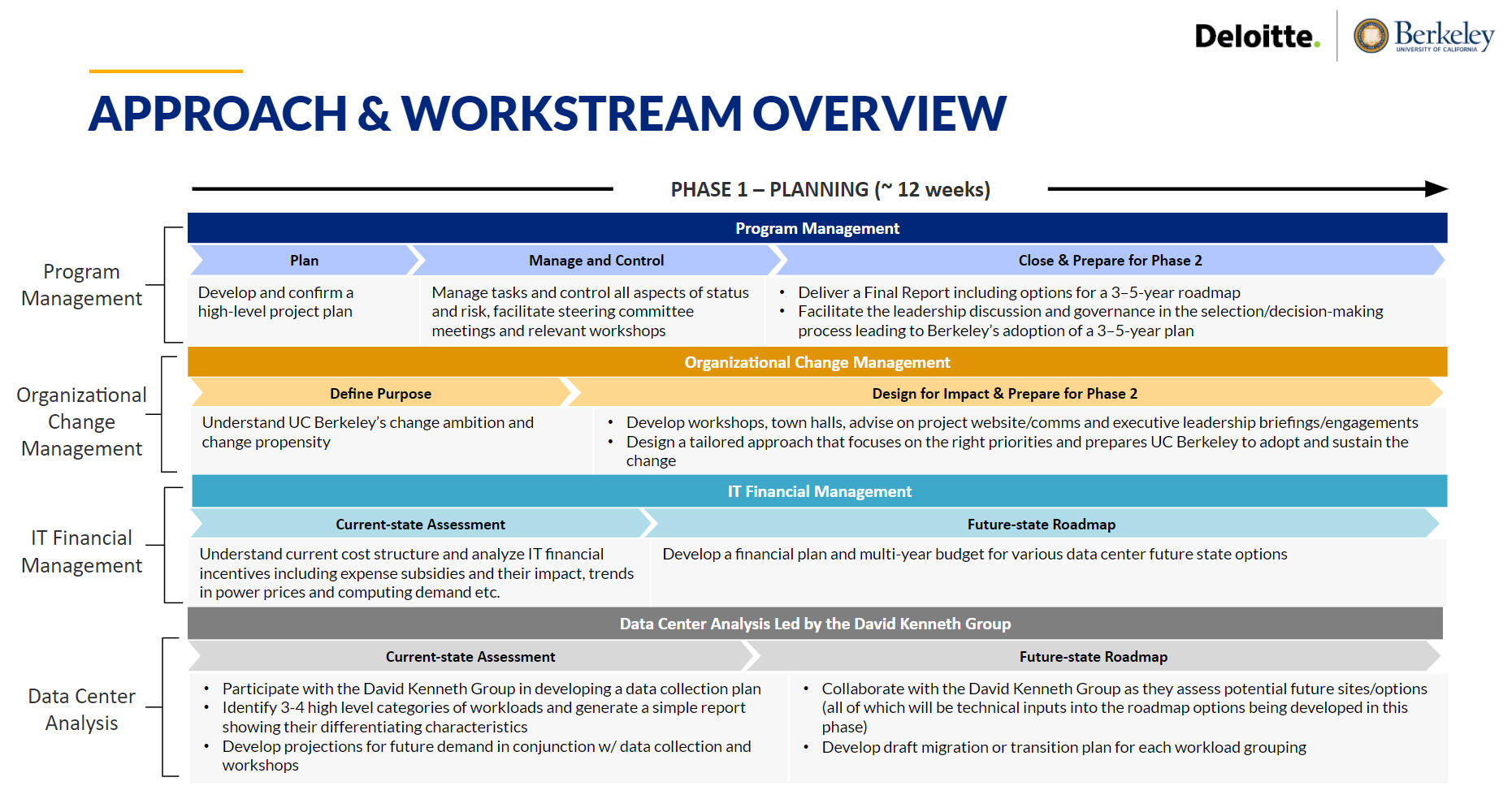 select image to enlarge and view source
Next Steps
Moving forward, in Phase 1B of the project, UC Berkeley will be using a data-driven, tailored approach to change management that will be used to ensure a sustainable transformation to a new strategy combining data center services in conjunction with public cloud options. 
Phase 1B of the project will focus on reassessing the campus cloud strategy, building out the framework for updated cloud architecture, and upgrading security standards. UC Berkeley leadership and the Architecture Review Board will be reviewing all work products to ensure that they align with the University's mission and goals. Additionally, Phase 1B will include an analysis of server rooms dispersed across campus, a review of the existing cloud strategy, and an assessment of administrative application support. Lastly, during Phase 1B, Deloitte and the bIT team will collaborate on an updated financial model for IT spending and collect additional input from various stakeholders (including VPs, VCs, and IT stakeholders in Units). 
Stakeholders with data currently residing in Warren Hall will be given ample notice once this occurs. We will work with all stakeholders to ensure a timely and efficient transition.