UC Colleagues,
The countdown is on! We are less than two months away from UC Tech 2023: Resilient, Rising, and Reinspired. This message is chock full of conference info, please share with your networks!
Our big news is that we are excited (and a bit shocked) to report that in-person registration has reached maximum capacity, within three weeks of registration opening! The hub for our event this year is the MLK Student Union, the largest venue we have available on the UC Berkeley campus. We have worked really hard to ensure everyone who wants to attend the conference in person July 17-19 is able to do so; please join the waitlistif you are still hoping to attend in person. Not to worry, as virtual registration is still available, and every session aside from the Welcome Reception and UC Tech Awards will be live-streamed!

Note: The registration link above is for general registration. If you are listed as the primary presenter for a session, a sponsor, workstream lead, UC Tech Ambassador, or a UC Tech Programming Committee member, please do not use the registration link above. Check your inbox for a dedicated link that will allow you to register according to your role.
Meet UC Tech Keynote & Session Speakers
We have an amazing line-up of both keynote and session speakers. Our keynote speakers include John O'Brien, President & CEO | Educause; Van Williams, VP of IT Services & CIO | UCOP; Dr. Aaron Neinstein, VP of Digital Health | UCSF Health; Dr. Medell Briggs-Malonson, Chief of Health Equity, Diversity & Inclusion | UCLA Health; Dr. Crystal Cené, CAO for Equity, Diversity & Inclusion | UCSD Health; and Dr. Courtney Lyles, Associate Professor | UCSF Health. Meet all our keynote speakers. Session speaker photos and bios are being added by presenters each day, you can view their info by selecting their headshot in the online conference program
Build Your Schedule
Once you are registered for UC Tech, you can then build out your schedule:
Log in to the UC Tech attendee hub. You will be emailed a verification code, enter it when prompted.

At the top of the page select "Schedule" then choose "All Sessions" from the drop-down menu.

Browse sessions and use the "Add" button for the sessions you'd like to attend.

To view your schedule, select the calendar icon at the top right of the screen.
Plan Your Trip
Now that you're registered, here are some additional links as you solidify your travel plans and learn more about the Berkeley campus:
Show Your UC Tech Pride
We have created a few items to help you tap into the spirit of UC Tech now and leading up to the conference:
Download a UC Tech 2023 Zoom background. Fun fact: If you get everyone in your next Zoom meeting to use "Background1" it creates a kaleidoscope effect that is kind of funky!

When you're hanging out in the UC Tech channel (especially #uctech-conference and/or#events), you can now use our golden bird emoji! While in Slack, just select the emoji icon then search "uc tech" to find our bird in flight.
The Current Talks UC Tech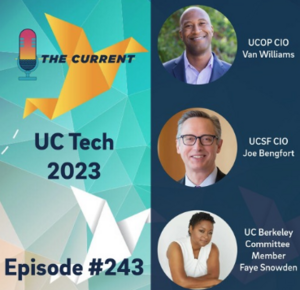 Ever wondered what makes this event special and what goes into planning it? UC San Diego's The Current podcast caught up with UC CIO Van Williams, UCSF CIO Joe Bengfort, and UC Berkeley Committee Member Faye Snowden. They spoke about:
Conference highlights and reasons to attend

What organizers are most excited about

What makes the conference unique

The vision for UC's community of technologists

How the UC Tech community supports the UC System's goal, and

How UCB and UCSF are partnering as conference co-hosts.
Listen to the podcast | Read the program transcript
A huge shout out and thank you to Mark Hersberger and Miguel Rodriguez for hosting this awesome podcast!
Stay Connected
There are several ways to stay informed or ask questions about UC Tech:

Many thanks to the generous support provided by our UC Tech sponsors: