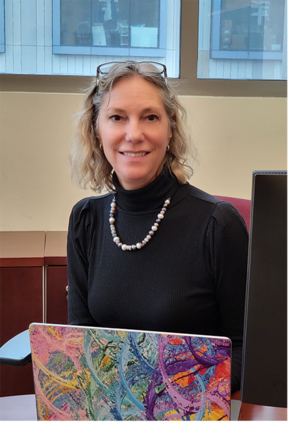 Jenn Stringer is the Associate Vice Chancellor for IT and Chief Information Officer for the University of California, Berkeley. She is responsible for the strategic oversight of campus-wide IT and reports to Vice Chancellor for Administration (VCA) with a dotted-line to the Executive Vice Chancellor & Provost (EVCP). Before becoming CIO in 2020 she served as the Deputy Chief Information Officer and Assistant Vice Chancellor for IT and prior to that she was the Chief Academic Technology Officer where she was responsible for bringing together Educational Technology Services (ETS), Research IT (RIT), Digital Learning Services (DLS), and the Center for Teaching and Learning (CTL) to serve faculty and support student success.
Before coming to Berkeley she was the Director for Academic Technology Services at New York University and Director of Educational Technology at Stanford University School of Medicine. She is a leader, technologist, librarian who is passionate about the role of technology and access to information as a strategic enabler to support the academic and public missions of institutions. She believes that technology can and should be a force for good in the world.
She graduated from the University of California, Santa Cruz with honors in History and completed her Masters in Library and Information Science from San Jose State University. Jenn is a Frye Leadership Institute Fellow and is a past member of the EDUCAUSE Institute of Management Faculty. She currently represents EDUCAUSE on the Coalition for Networked Information (CNI) Steering Committee, the EDUCAUSE Nominations Committee, and is a former Viewpoints Editor for EDUCAUSE Review.