The CTC has been on hiatus while UC Berkeley has been working on redesigning the campus IT governance model. Information provided on these archive pages is for reference only and is not current.

The Campus Technology Council (CTC), chaired by UC Berkeley's CIO, consists of ten Associate CIOs representing different campus constituencies, as well as two representatives from the Academic Senate.
The CTC was chartered in 2006 by then CIO Shel Waggener as the new, consolidated, campus IT governance structure. The CTC identifies and prioritizes campuswide information technology needs and opportunities, in support of UC Berkeley's mission.
The Associate CIOs work as a group to review and prioritize IT proposals submitted during the annual campus budget process. The CTC's recommendations are considered for funding by the CIO and the Chancellor's Cabinet.
CTC Charge
Serve as stewards of campuswide information technology strategic development by representing areas of mission-critical technology consumption across the campus and overseeing the campus's technology spend in service of UC Berkeley's mission. The CTC's role includes identifying and recommending technology standards and services where opportunities for delivery at greater impact exist.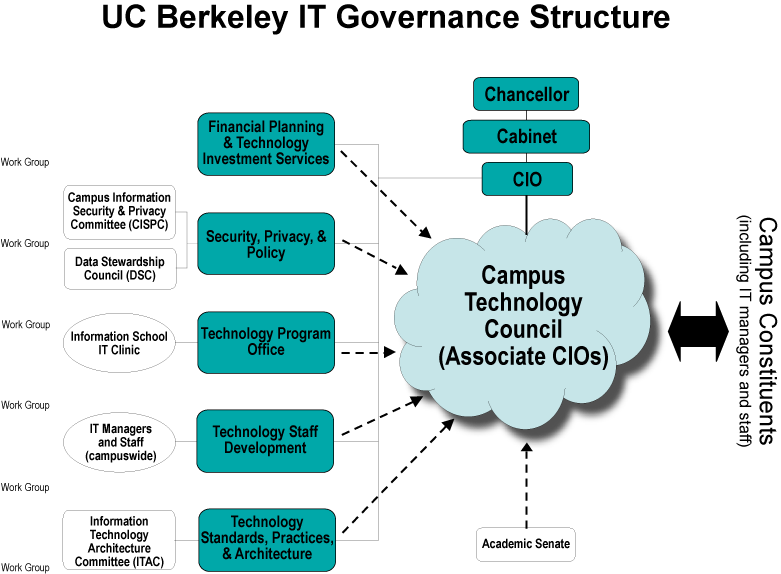 Associate CIOs
The Associate CIOs form the membership of the Campus Technology Council (CTC), and together with the CIO serve as primary stewards of the Campuswide IT Strategic Plan.
The Associate CIOs represent campus constituencies.
| Name | Title | Constituency |
| --- | --- | --- |
| Professor Merrill Shanks | Associate CIO | Arts, Humanities & Social Sciences |
| Professor John Huelsenbeck | Associate CIO | Physical & Biological Sciences |
| Professor David Culler | Associate CIO | College of Engineering |
| Patricia Donnelly | Associate CIO | Professional Schools |
| Angela Blackstone | Associate CIO | Student Experience |
| TBD | Associate CIO | Administration |
| Bernie Hurley | Associate CIO | Library & Collections |
| Patrick Schlesinger | Associate CIO | ORUs/Research Groups |
| Mara Hancock | Associate CIO | Teaching and Learning |
| Michael Mundrane | Associate CIO | Information Services and Technology (IST) |
In addition, the Chair of CAPRA (currently Professor Dorian Liepmann) and a COR representative (currently Professor George Roderick) serve on the CTC as representatives of the Academic Senate.
If you would like to speak with the Associate CIO who supports your group, have technology planning questions, are planning initiatives with a significant technology component, or would like to find out more about how the campus's technology plans impact you and your department, please contact:
Liz Marsh
Office of the CIO
510-642-3850
510-643-5385 fax
lizm@berkeley.edu
Campus Technology Council: Meetings
Unless otherwise noted, all meeting will be held from 10:00 am to 12:00 noon in 200C Earl Warren Hall.
FY 2010–11
Monday, July 19 *CANCELED*
Monday, August 23
Monday, September 20
Monday, October 18
Monday, November 15
Monday, December 20
Wednesday, January 19
Wednesday, February 16
Monday, March 14
Monday, April 18
Monday, May 16
Monday, June 13
FY 2011–12
Monday, July 11
Monday, August 22
Monday, September 19
Monday, October 17
Monday, November 14
Monday, December 12
January TBA
February TBA
March TBA
April TBA
May TBA
June TBA
References & Resources
This section lists background materials of specific interest to the Campus Technology Council and the campuswide IT strategic planning process.
Earlier documents generated by, or used as input to, the strategic planning process.
The first phase of IT strategic planning took place during Spring and Summer 2004 and the focus was to respond to the direction set by the Strategic Academic Plan and to create three specific outcomes:
Guiding principles for IT at UC Berkeley.
A short list of critical IT opportunities and challenges that UC Berkeley must address in order for UC Berkeley to survive and thrive in the next five years.
A prioritized list of initiatives and operational improvements to address the critical opportunities and challenges.