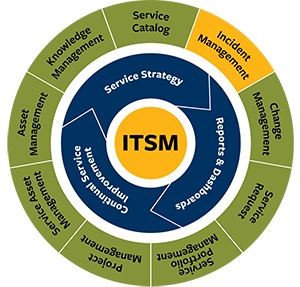 The primary goal of IT Incident Management (IM) at UC Berkeley is to help the campus community easily get help to resolve technology-related problems. In IT Service Management, (ITSM) an IT incident is an unplanned interruption to an IT service or a reduction in the quality of an IT service. An example of an incident might be that you can't access the campus wireless network and your work becomes interrupted. Another example of an incident might be that files appear to be missing from your computer preventing you from completing your work. In both scenarios, IT staff need to take to take action so that you can return to work as normal.
IT Incident Management is comprised of a set of processes and practices designed to return a service(s) to normal functioning as quickly as possible with as little negative impact as possible. Incidents are not all the same; they do require prioritization by IT staff based upon the quantity of people impacted and severity of the impact to the campus. Some incidents have complex root causes that are very different than the reported problem communicated by the customer, and some may impact and be reported by multiple customers.
Our Approach
At UC Berkeley, we are committed to the following IT Incident Management practices:
We resolve incidents quickly, in order to minimize the impact on our customers.
We prioritize incidents appropriately, based on their impact and urgency.
We communicate well so that customers and users understand what is happening and when they can expect their incidents to be resolved.
We satisfy customers and users with the way we handle their incidents.
We recognize repeating incidents and log problems to help reduce future business impact.
We make efficient use of our incident management resources.