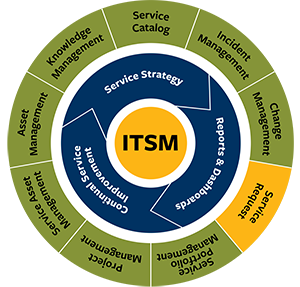 The goal of IT Service Request Fulfillment is to make it easier for campus customers to receive information about and procure technology services and products. Within the framework of IT Service Management (ITSM), a service request is the process by which a customer formally makes a request to:
Receive access to a campus IT service.
Have standard and approved modifications made to campus IT services or products that they currently use.
Remove access to a campus IT service.
Set up a new product such as a laptop computer.
The Service Request Fulfillment process defines the standard steps that are followed to fulfill a request of a particular type or category. The details of a service request are captured in a service request record. Customers typically receive status information about their order at defined points during the request fulfillment process.
Service request forms will be available to customers via the IT Service Catalog service pages. Customers will be able to order the services they are looking for and receive status information about their orders. The service request processes in ServiceNow will enable IT staff to fulfill orders quickly and efficiently and also monitor the type and volume of requests to allow them to see how many requests they are receiving so they know how best to allocate their resources.